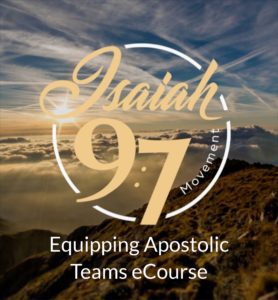 This course lays out the structure of increasing God's government in your city and nation. Steve and Maria, our instructors, give you a deeper insight into what that means, why it is necessary, and how to start and develop teams organically, while being led by Holy Spirit. The textbook is an important resource for those who feel God pulling them deeper in the how-to.  You will find more of these resources on Kingdomlearning.life and Isaiah97.com. We are a people passionate about being, "sent ones" and increasing God's government in our cities and nations!
Students in this course will study from Jesus' examples of how He increased God's government everywhere He went and how that applies to us:
The Isaiah 9:7 textbook is available and recommended.
We will study the interactions of Jesus and His disciples.
You will learn what it means to be sent out as an apostle according to scripture.
You will also learn what it means to have authority.
And you will hear real testimonies of people in the process of being equipped.
Read More »